OK I've been asked this a lot lately. It goes something like this. "Tim will brand X fork fit my bike with a _____ size wheel" My answer goes something like this "welllllll I don't know". You see to answer that question I need some more info. First piece is what is your "axle to crown" measurement on your currant bike with you sitting on it. Why sitting on it? If you have a suspension fork it will compress and change the measurement this situation is called "sag". But wait what is the fork "crown" and "axle"
The crown is were the bottom race for the head set sits. the axle is were the hub rotates. So in the above picture that measurement is 425mm. I know its blurry but trust me. From now on axle to crown will be know as AC its part of the secret frame builders lingo so don't tell any one cause they will kick me out of the club. So the second measurement is Axle to Ground.
That's the measurement from the axle of the bike to a flat surface. That from now on will be know as AG. For the record that AG is on my daughters 26" rim with a 2" tire and its AG is 330mm. Oh yea by the way you should do all these measurement with a metric ruler. All forks that I know of have these measurements in metric. So its do my kids bike. Its a Redline PL26 with a Manitou Mars Elite MRD 80mm travel fork with a 26"x2" tire. For the record she's at grandmas for the summer and sense I'm by my self we will do this dry so its just an example you of course wlil be on the bike with a buddy doing the measuring. Oh you have no friends ....try beer.
So I get a AC of 460mm Her AG is 330mm (above picture) so now I add the two and get a new measurement called Crown to Ground which will now be know in the secret lingo as CG. This CG is 790mm. So now you subtract a know AG of the tire/wheel combo you wish to put on the bike. I went and measured some so don't panic just yet.
The AG for a 650Bx2.1 is 345mm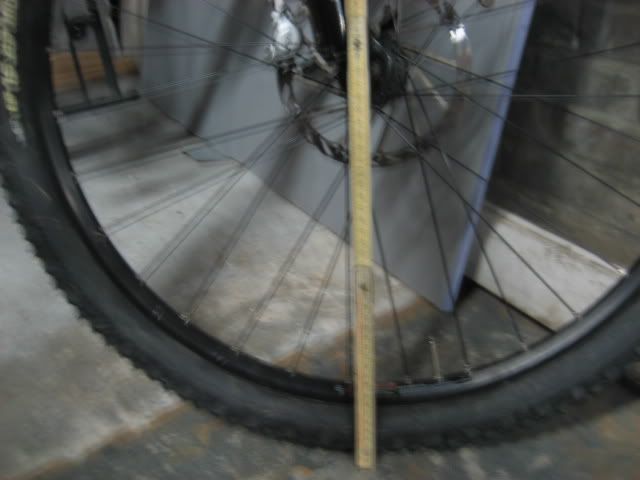 The AG for a 29x2.1 is 370mm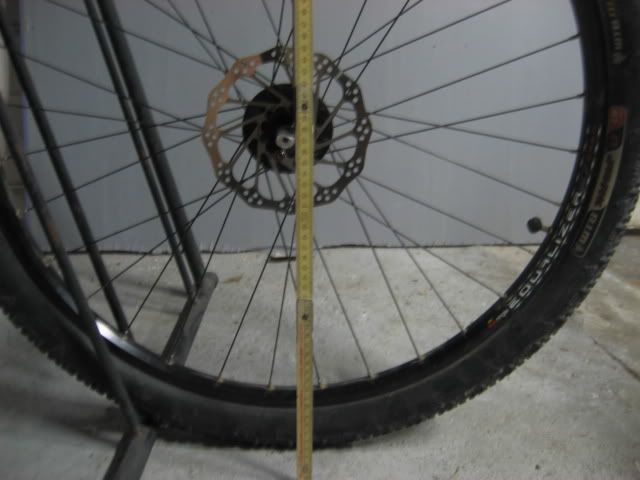 the AG for a 29x 2.55 is 375mm This is the biggest AG that I know of.
So lets say you want to try out a 650B. 790mm-345mm=445mm This is your new AC measurement. You need to look for a fork with at least a 445 AC to get about the same handling characteristics as your currant set up. You may not find anything dead on but close is good enough as your suspension fork travels your AC changes. So don't panic. Rule 1 an taller AC will slow the steering down. Rule 2 a shorter AC will speed steering up. So if I find Brand X fork has a 450AC that will slow the steering . with Brand Y's 423 that will speed it up.
Now people also ask me "How will this brand X fork feel" Well its like this. How is it made and what is it made of. I can make a steel fork using a solid bar of 4130 chromoloy about 2" thick. or I can make a steel fork out of some paper thin Columbus tubing. That 4130 fork will push your fillings out. It also has to do with the bend or rake of the fork. A strait leg BMX style fork rides rougher then a nice big radius bend fork. Now its a little different with carbon fiber. Its all about the weave and glue. Also with a carbon fork they need to wrap it around something to hold its shape before they can cook it. They can use an air bladder,balsa wood,honey comb latish or Styrofoam but I've also seen manufactures wrap up an aluminum fork. I'm pretty sure that's what Winwood does on the Purist fork. Here's something else Rebranding. These guys make every one else's forks.
http://www.mekkem-parts.com/products/?n ... &lang_id=0
The White Bros,Fetish, Lynsky, Orgin8, Exotic Sasso and Shimano Pro forks all come from Mekkem. Same fork different stickers. Mekkem just switched to building a bunch of post mount forks so look for those to hit the market soon. Another thing you have to look at is how wide the crown area is. This will tell you how fat a tire you can stuff in there. Pretty much a 2.1 tire is standard. anything bigger, check ,especially if you run a fat tire.
http://mtbtires.com/site2/news
this site has all that info.
So in short get a metric ruler, a calculator a buddy and some beer and have at it.
If your really superly interested in how a bike fork contributes to handling Google "bicycle fork trail measurement" Read all 10,000 pages and get back to me.
Tim
some one please sticky this.